'BITU BICHENJANGA', HARD HITTING INDIZA CHARGES INTO THE LEAD OF AT THE SAFARI GOLF TOUR IN NYALI
By AMANDA DAMARIS
Kenya's veteran golf professional, Dismas Indiza charged into the lead of the Safari Tour after an impressive five-under par score in Round Three. Indiza stated his intention early, posting a birdie on the open par-5 1st and an eagle on the par-four seventh. His only blemish on the opening nine was a bogey on the tough dogleg left par-4 fourth. On the back nine, Indiza posted early birdies on the 10th, 11th and 15th holes, made a sand save on the 16th but dropped an unnecessary shot on the easy par-5 17th after hitting his drive right off the tee. Indiza finished with an easy par on uphill par-3 18th.
With this performance, Indiza equalled the Nyali Golf and Country Club course record of 5-under. He is now 1-under par for the tournament and 4-strokes ahead of Eric Ooko.
Speaking after his round, Indiza said he was happy with his results. "It is easy to count the ones that didn't go in, but overall I am happy with my round. I was swinging well, and the weather conditions were favourable for low scoring," he said. "If the conditions remain the same tomorrow, I will make another attempt at that course record."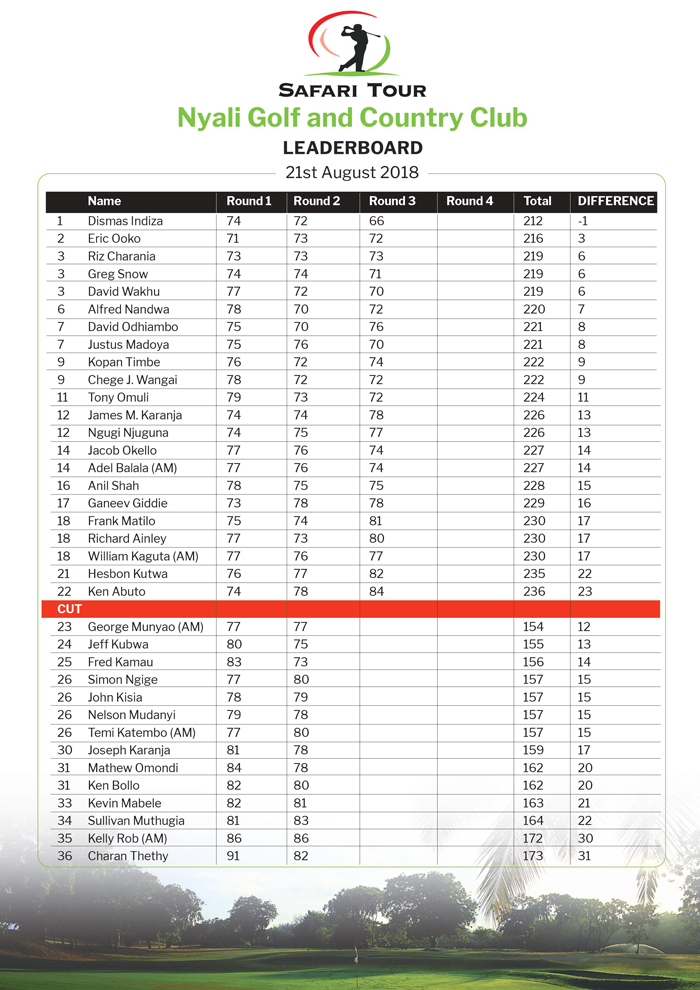 Indiza is the only player under par after three rounds and is on course to pick up the bonus for returning a 4-round under par score.
Royal's Eric Ooko played steady in Round-3, playing level through the first nine with a birdie on the first and bogey on the 6th hole; on the back nine, he made 8-pars and a lone bogey on the par-4 12th. Ooko now trails Indiza by 4-strokes going into the final round.
Windsor's Riz Charania remained composed through Round-3 posting birdies on the 2nd, 3rd and 5th holes; however, he lost his swing and made back to back bogeys on the closing four holes of the front nine. On the back nine, Riz made one birdie on the par-5 11th but dropped two shots on the 13th and 16th holes to finish 2-over for the round and 6-over for the tournament on a total of 219.
Safari Tour Calendar 2018/19:
Event 1 – Nyali Golf & CC – 18 – 22 August
Event 2 – Vet Lab SC – 1 – 5 Sept
Event 3 – Limuru Country Club – 27 – 31 October
Event 4 – Thika Greens- 10 – 14 November
Event 5 – Karen Country Club – 15 – 19 December
Event 6 – Muthaiga Golf Club – 12 – 16 Jan
Event 7 – SAFARI TOUR CLASSIC – FEBRUARY – Venue TBC.
Total Prize Money per event: KES 1 Million.