Naliaka Academy
By THE BUDDY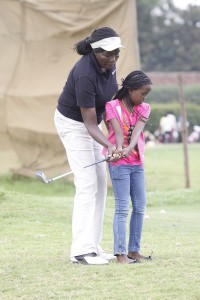 She used to sink birdies and eagles during her expansive golfing career, now Rose Naliaka, the legendary lady golfer is returning to the sport in a unique way, with a target of increasing the number of female golfers in the country.
Standing at slightly more than six foot tall, she would easily pass as a basketball player, but Naliaka decided to venture into playing golf, a sport she has now played for more than 30 years after being influenced by friends at her native place, Kitale.
She was not deterred by the fact that the sport was elitist and costly to practice during the 1970's.
"I started playing golf without money. I had a job yes, but I think I was earning something like Ksh2, 000," said Naliaka.
She played amateur golf for 25 years before turning professional in 2005 and this virtually became her launch pad in the sport, making her a household name in the regional and international events, receiving numerous accolades. The 55 year-old relishes the sport and was not cowed when she played against the world's best female golfers.
She has traveled around the world and played in some of the world's best courses, never the less, she is dismayed that she cannot compete locally or within the region.
"I don't have any competition at all in Kenya or East and Central Africa. I think I am the only female professional golfer in the entire region," said Naliaka who worked in administration at the BBC monitoring before retiring last year.
She has started a golf academy at the Golf Park in Nairobi, one of its own in the country, targeting young girls of different back grounds, but says more need to be done.
"It would be great if we have public golf courses around the country so that children should try their hands in golf from all parts of the country.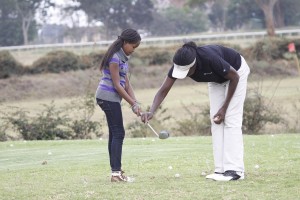 Naliaka says she started the academy to give poor girls a chance in life. She does this by organising workshops, seminars and golf clinics for the girls. The girls of different age groups regularly converge at the nine-hole Golf Park course every Saturday morning to receive priceless tips from the veteran golfer and all this is done at no cost.
"Golf is about personal discipline and this is what my girls are learning here," says Naliaka.
Just three years after the academy started, the lessons are paying off. There are four girls who are highly rated and play in the junior national team.
Some team members who have posted impressive results on and off the golf course are Mary Snider, Agnes Azetse, Sarah Owasi, Loise Akinyi and Ashley Ouma.
Naliaka believes that the sport is a great source of income and urges young ladies to take it seriously as it could be their source of lively hood in future.
"I personally know of many lady golfers who have made millions from playing golf and these young girls can achieve the same feat. In fact they stand a better chance because they have started playing golf at a tender age, whereas some one like me I started playing in my 20's," Naliaka said.
When I visited the academy recently, Agnes Azetse swung her golf club and hit the ball, which flew into the horizon. She was demonstrating skills she learnt on golf courses in St Andrews, Scotland mid last year. Agnes and three other girls — Naomi Wafula, Mutindi Kithu and Mercy Nyanjama — went to Scotland last July on a golf educational tour.
"It was great being in Scotland. I learnt many golf techniques and life skills," Agnes, 10, told Golf100.
"I practice hard and make sure my shots are perfect every time," Ashley says.
She would like to follow in the footsteps of Rose Naliaka, the only professional woman golfer in Kenya and founder of the academy. nike air max schwarz nike air max schwarz