RUIRU HOSTS 185 FOR INAUGURAL NYANDARUA COUNTY GOLF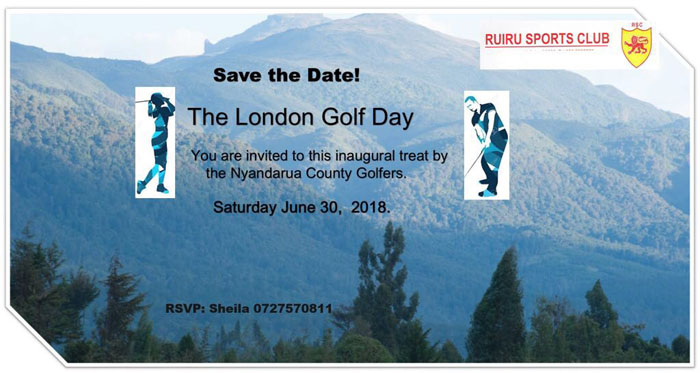 By AMANDA DAMARIS
Action in the golf scene shifts to Ruiru Sports Club earmarked for Saturday, as they host the inaugural London Golf, which has been supported by golfers and professionals from Nyandarua County.
A total of 185 golfers have been drawn for the tournament to symbolize plush highlands associated with the County.
Ruiru Golf Captain Peter Mwaura said: "It's one of its kind and it is promising a refreshing treat for golfers with an enhanced category of prizes."
He added that it is going to be a great engagement platform for the county residents and professionals expected to gather at the event.
Golfers drawn from across clubs in the country are set to take part at the tournament which has been convened by the Club's former Captain and current Secretary Antony Kamau, included is a slew of other golfers from Nyandarua County.
A number of senior officials including Nyandarua County Assembly Speaker Wahome Ndegwa will grace the occasion.
This is the latest series of big games which have been hosted at the Club. Last weekend, the Club held the Annual Accountants Golf where Willy Kagicha took the top honors.
Kagicha is expected to face stiff competition from a few other golfers who are on top form like Kimani Munyua, Alex Machocho and Benard Ngore. For the ladies, recent winners like Teresia Wainaina, Winnie Kamau and Pauline Mungai are expected to put up a strong show.