PLAYERS FROM KITALE AND NANDI CONVERGE AT ELDORET CLUB FOR DASANI GALA ACTION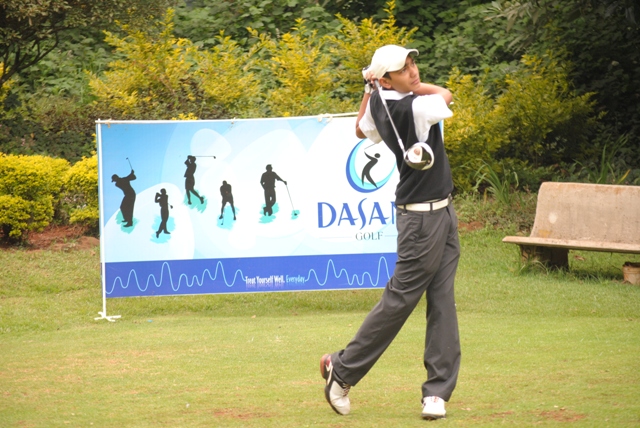 Sigona's Sayyam Shah follows his tee shot during the 12th Dasani Golf Gala held at the par 72 course last weekend. Action moves to nine-hole Eldoret this weekend.
By CORREPONDENT
With only five more qualifiers to go before the Grand Finale, stakes will be raised when the on going Dasani Golf Gala action visits the par 71 nine-hole Eldoret Golf Club on Saturday where only eight players from a field of 104 will qualify for the Karen finale on September 29.
The Eldoret event will bring together players from the home club, Kitale Golf Club and Nandi bears who will battle it out for the limited slots available. So far a total of 96 players have already qualified for the grand finale after 12 rounds that were held in Kiambu, Thika, Railway, Sigona, Windsor, Vet Lab, Nakuru, Nyali, Leisure Lodge, Nyeri, Karen and Royal Club.
According to Eldoret Club's vice captain Tom Mutei, the course is currently well mantained and has been playing very well.
"The course is also quite scenic and players have to cross River Sosiani four times with the risk of losing a few golf balls to the river," said Mutei.
The teams to watch at the Eldoret leg according to Mutei, will be the team of James Waweru, George Njoroge, Jeremiah Kayago and Tom Mutei, the team of Anand Lakhari, Ravi Shar, Parit Sangrajka and Neel Shah and the combination of David Kimutai, former Boston Marathon champion Moses Tanui, J. Kibosia and A. Chelongoi.
This year, the grand prize will see the winning team of four players travel to Dubai to attend the Grand Finale of the European Tour, the DP World Tour Championships at the Jumeirah Golf Estates. While in Dubai, they will also have the opportunity to see Europe's top 60 money earners on the 2012 Order of Merit battle it out for a 1.3 million winner's cheque.
In addition, they will play at some of the best golf courses in the region, including the Dubai Creek Course and the challenging Faldo Course at the Emirates Golf Club, a course designed by former world number 1 and six-time major Champion Sir Nick Faldo. sac michael kors pas cher sac michael kors pas cher