KARIUKI REPLACES MWANIKI GACHOKA AS KGU BOSS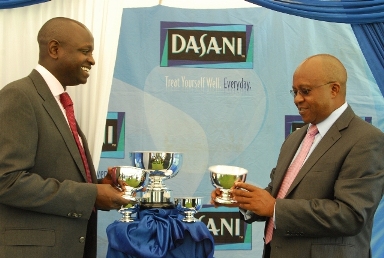 By JAMES WAINDI
Alfred Kariuki is the new Kenya Golf Union (KGU) chairman replacing outgoing Mwaniki Gachoka after the Union held its Annual General Meeting (AGM) on Friday at the Muthaiga Golf Club.
Kariuki said he had a big challenge of filling the shoes of the outgoing chairman, but vowed to work tirelessly ensure the development of the sport countrywide with the development of junior golfers his first priority.
"My friend Joe Kihanya is the one who advised me to join the Union some time back and I am now the chairman, I think he is the main reason why I am now the chairman of the Union," said Kariuki.
He added: "Outgoing chairman Mwaniki Gachoka gave us a very good leadership and I want to emulate him or even be better to ensure prosperity. He provided a conducive environment for people to share ideas and delegated, I will also embrace consultation and dialogue."
Gachoka urged golfers to spread the game to their homes and encourage their kids to take up the sport at an early age to create a new generation that would replace the aging golfers.
He noted: "I want to thank all the captains who gave me a lot of support and worked with me with a lot of harmony. I worked hard for the Union that I even slumped in my golf, going from handicap 9 to handicap 14, I believe now I will be able to return to my best."
During Gachoka's time, Kenya won the East Africa Challenge and finished third at the Africa Zone VI event.
2012 KGU Officials
Chairman- Alfred Kariuki
Vice Chairman- Francis Okwara
Honorable Treasurer- Richard Wanjallah
Honorable Secretary- Peter Warui
Executives- Anthony Muhoro
                     -Stephen M. Githaka
                     -G. K. Mungai
                     -Ndiga Kithae
                     -Anthony Gacheru
Manager- Jesse Mungai air max blancas air max blancas