SNOW GLOWS AT KCB TOUR IN MUTHAIGA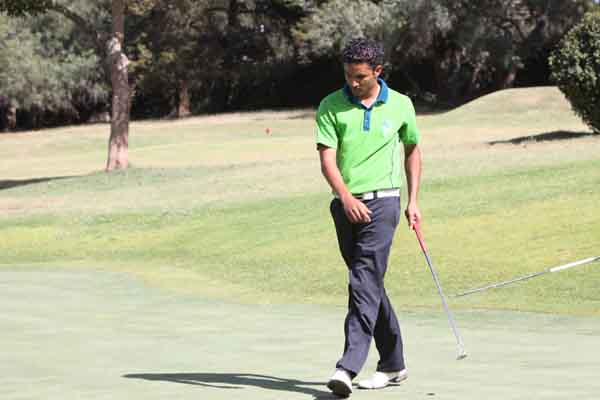 By JAMES WAINDI
After coming close on his debut as a professional golfer during last year's KCB Golf Tour grand finale at Nyali Golf Club, Greg Snow finally realised his dream at the weekend when he won the second leg of this year's tour at the par 71 Muthaiga Golf Club and he plans to maintain the same form in the remaining legs.
Snow, a former golfer of the year who just turned professional seven months ago, produced a stunning performance to win the second leg of the Tour after firing one under on the final day for an overall score of nine under par 275 after the four rounds.
He led the entire pack from the first round to the final day, hitting 69 in the first two rounds before finishing four under par 67 on the third day.
In the first nine, he was all par besides hitting a bogey on the second, third, seventh and eighth holes while in the second nine, he hit a birdie on the 10th hole and registered albatross on holes 13 and 16 to eventually walk home with the winner's price of Sh198, 000.
John Kagiri was second after firing four under par 280 while Mumias pro Dismas Indiza was third on two under par 282. They walked home with Sh145, 000 and Sh109, 000 respectively.
Thika pro Simon Ngige who won the Tour's first leg at the Thika Golf Club last month and the champion of the KCB East African Golf Tour 2010 finished in a disappointing ninth overall position on seven over par 291.
The Muthaiga round attracted participants from Kenya, Uganda, Zimbabwe, Tanzania, Ethiopia and Rwanda.
Others who emerged in the top 10 were Nicholas Rokoine (283) David Wakhu (288), David Odhiambo (289), Ali Kimani (290), H. Thethy (290), Simon Ngige (291), Richard Ainley (291).
Sigona: March Monthly Mug, sponsored by Craigs Sports, Winner- Haki Sehmi 66nett; R/Up- Anis Kassam 71nett; Third-Paul Ngige 71nett; Fourth- Vicky Chawla 71nett; 1st 9- H. Pindolia 32.50nett; 2nd 9- Karan sehmi 33.5 Nett; Mugs Result, Winner A Div- Vicky Chawla 71nett; Winner B Div- Haki Sehmi 66nett; Winner C Div- Paul Ngige 71nett; R/up A Div- Palu Dhanani 73 nett; R/up B Div- Galib Rahim 67 nett; R/up C Div- P. Y. Ha 72nett; Third A Div-Baiju Savani 73nett; Third B Div- Anis Kassam 71nett; Third C Div- Karan Sehmi 74nett.
Vet Lab: Kabete Ladies Open, sponsored by Ashnil Hotels & Keroche Breweries Ltd, Silver nett, Winner- F. Macharia 75 nett; R/Up- S. Njenga 75nett; Third- F. Shiroya 76nett; Bronze nett winner- R. Munoru 70nett; R/Up- W. Warui 71nett; Third- A. Mwalimo 72nett; Open winners (Gross), Silver winner- M. Karano 74 gross; R/Up- F. Maina 84 gross; Bronze winner- M. Monary 89 gross; R/Up- B. Jones 92 gross.
Thika: Next Generation/ Housing Finance Golf Day, Overall winner- Peter Kimui 42 (19, 23), Men winner- Fr. L. Njoroge 40 (20, 20), R/Up- W. K. Kariuki 39 (19, 20), Third- F. Wang'ombe 39 (21, 18), Lady winner- Anne Mukiri 39 (18, 21), R/Up- Gladys Athiru 36 (19, 17), Guest winner- D. K. Muthua 37 (19, 18), R/Up- F. M. Gachanja 36 (24, 12), Sponsor Winner- Edwin K. Kariuki 38 (15, 23), R/Up- Ndiga Kithae 36 (16, 20), Best effort- B. Kagiri 16.
Kenya Air Force: Year Opener sponsored by Kithinji & Friends, winner- K. Mabele 38pts  (19, 19); R/Up- I. Nderitu 35pts (16, 19); Third- Lt. Col. S. Lenyarua 35pts (18, 17); Fourth- Lt. Col. P. Karung'o 34 (17, 17); Guest winner- P. Maina 36 (22, 14); R/Up- C. Kaloki 33 (20, 13); Lady Winner- Mary Too 34 (14, 20); 1st Nine- M. Nderitu 19 pts; 2nd Nine- B. Kotonya 18 pts.
Courtesy of Standard Newspapers nike air max 90 damen nike air max 90 damen