Liza Wisner's interview
By THE BUDDY
Just like one of Kenya's best golfers John Mucheru, her daughter Liza Mucheru Wisner seem to have picked up a number of traits from her father and makes not only the family proud of her achievements, but the golf fraternity as well and the country as a whole.
Liza 30 years old started her golf career in Kenya as a young golfer, she learned how to play the sport at a very young age from her late father John Mucheru who was a golfing legend in Kenya as he captured 11 Kenyan National Chaqmpionships before his ultimate death in 1996.
Liza progress was steady and she became a member of the Kenyan National Women's Golf team and even won the Kenya National Championship title  as well as capturing medal honours at numerous national tournaments.
She represented Kenya international in various occasions including the 1998 Eats African Match Play Championships held in Kampala, Uganda, where she finished fifth overall. She also played for Kenya at the 1999 All African Strokeplay Championship in Zambia.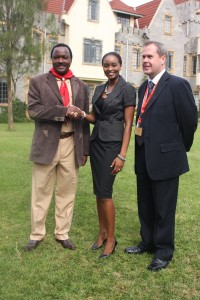 Liza has also been a former Texas A&M University-Corpus Christi women's golfer and played for the university's women's Golf Team from 1999 to 2003 and was fourth all-time in the school history with 27 tournaments played and attained nine top 10 finishes.
She strives to balance being an amazing business owner, wife and mother.  Liza, 30 completed her education and received her master's degree while simultaneously starting an educational technology company. However, her business venture fell victim to the recession and she is struggling to make it a success.
Liza shares her time between the Texas Techies children's pilot program she developed, and the ELITE graduate student retention program at Texas A&M University-Corpus Christi. Texas Techies provides at-risk children with an advanced technology curriculum that helps them to develop into engaged global citizens and assets to their families and communities.
The ELITE graduate program provides advanced support and technology services for students pursuing graduate studies. Liza's passion for technology and education comes from her own positive educational experiences, as well as the surprising progress she observed in her own children as they discovered technology at different stages of development.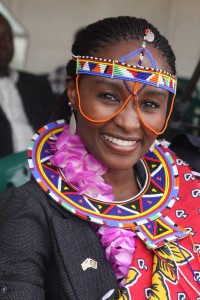 She was recently in Kenya for a tour while she was still a candidate on The Apprentice, Season 10.  The Apprentice is a television show that depicts 16 contestants with various backgrounds competing in an elimination-style competition to become an apprentice to Donald Trump, Chairman and CEO of the Trump Organization, and a US-based real-estate developer. The winning contestant eventually got an opportunity to work for Mr. Trump as the president of one of his companies for at least one year with an annual salary of $250,000.
While in Kenya, she visited schools and paid a courtesy call on Muthaiga Golf Club, perceived to be the home of Kenyan golf. She met with our Golf100 reporters and had a number of things to talk about. Now a wife and mother of two, she works hard to stay connected with her family in Kenya and Ireland, and is looking for opportunities to grow and expand her business. She is an avid fan of golf, and is a belly dancer and aerobics instructor on the side.
Q&A
Q) Why did you want to be on the Apprentice show, and why did you think you'd make a good competitor?
A) There are certain opportunities in one's life that are life-changing and can't be ignored. The Apprentice provided a pathway to brighten the future for me and my family. From playing golf to coordinating projects and businesses, I always try to do my best and have been lucky enough to have always been surrounded by great minds and competitive individuals who inspired my passion, and ultimately made me strive to be the best I can be.
Q) What was your reaction when you found out you'd been picked to be on the show? How did your friends and family react?
A) "Good glory hallelujah! My prayers have been answered." My family and close friends were ecstatic and fully supportive in taking care of any needs that were necessary for my leave of absence.
Q) With cameras rolling, how does it feel to know you're under America's microscope? What surprised you about the experience?
A) At first I was very conscious about the overwhelming ambiance that the producers and cameras created, but eventually I was able to adjust and perform as if they didn't exist. I was surprised at how much the cameras hindered me initially, as I felt there was always someone watching over my shoulder, waiting for me to make a mistake so they can entertain the world, spotlighting my weaknesses. Upon self-reflection, it challenged me to perform better even when time and resources were against me.
Q) Was the competition harder than you might have expected before?
A) I had preconceived notions of the team dynamic and rivalry, but I was surprised at how people were always plotting for my demise. Watching my own back proved to be more difficult than I expected.
Q) Did you have a favorite past winner or contestant from either the original Apprentice, or from Celebrity Apprentice?
A) Even though she didn't win, Celebrity Apprentice finalist Annie Duke gave a stellar performance, and she inspired me with her goal-driven tenacity and will for success.
Q) Beyond The Apprentice, what's your dream job? Where do you see yourself in 10 years?
A) My dream job is yet undefined. My entrepreneurial spirit leads me in the direction of providing services and management to businesses and communities using cutting-edge technology and innovative human resources. In 10 years, I envision myself as part of the success of a multi-national company, which would establish global connections and utilize human potential and resources producing progressive exponential results. After ensuring my family's financial security, it would be great to spend some time traveling the world, and playing every single golf course possible, from sand greens to the Xtreme 19th. nike air max thea schwarz nike air max thea schwarz